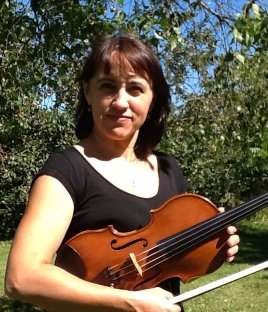 Mrs. Iryna Juravich is currently a Suzuki Violin School Teacher in Binghamton/Ithaca area. She was born and raised in Ukraine where she graduated from the Music School in 1985. She was a math major in college and upon graduation from the University, taught in high school for 5 years before moving to the U.S. Here she has also obtained a BS in Computer Science and was employed by both Lockheed Martin and BAE Systems.
She was first introduced to the Suzuki approach of learning to play violin as she took lessons with her own son. She became involved with assisting the teacher with her son's group lessons. She then herself, became the teacher in Hamilton, NY after a teacher vacancy.
She is very passionate about music and enjoys very much being a Suzuki Violin teacher. She is looking forward to bringing the Suzuki Violin Method to you or your child!
Suzuki Association of Americas registered training:
Every Child Can!

Suzuki Principles in Action

Violin Unit 1

Violin Unit 2

Violin Unit 3

Violin Unit 4
Memberships:
Suzuki Association of America (SAA)

Southern Tier Music Teachers Association

Central New York Association of Music Teachers (Former Member)